Best Clippers For Dog |  Dog clippers are electric grooming tools used to trim and shape a dog's fur. They come in corded and cordless versions and can be equipped with different blades for different coat types and lengths. They are designed specifically for use on dogs, with features such as guards to protect the animal's skin. It is important to use clippers that are designed for dogs, as they are powerful enough to cut through thick and coarse fur, and also come with safety features such as guards to protect your dog's skin. It's also recommended to use proper lubrication and to keep blades sharp for the best results.
Here is a list of the best dog grooming clippers by budget. We'll look at the important features of each grooming clipper, such as quality, battery, safety, ease of use, and other features, and how they compare with their competitors. There's also a link to the specifications of each grooming clipper and the best clippers by under different budgets.
How to find the perfect dog grooming clipper under a budget?
When looking for the perfect dog grooming clipper under a budget, there are several factors to consider:
Power: Look for a clipper with a powerful motor that can handle thick coats. A powerful motor will make the grooming process faster and easier.
Speed settings: Some clippers have multiple speed settings, which can be useful for different types of coats. Speed settings also help you to adjust the clipper to suit your dog's comfort level.
Blade quality: Look for clippers with high-quality, sharp blades that can cut through thick coats without pulling or tugging on the hair.
Durability: Look for clippers that are built to last. Look for clippers with a sturdy construction and a long-lasting battery.
Ease of use: Look for clippers that are easy to use, clean, and maintain. Look for clippers with a detachable blade design and easy-to-use controls.
Reviews: Check customer reviews and ratings to see what other people are saying about the clipper. This can give you an idea of how well the clipper works, and whether it's a good fit for your needs.
Brand reputation: Look for clippers from reputable brands that have a good track record of producing high-quality grooming tools.
Price: Compare prices of different clippers and choose one that fits your budget. Keep in mind that a higher price doesn't always mean better quality.
Consult with a professional: Talk to a professional groomer or a vet, they will be able to give you an expert opinion and help you choose a clipper that's right for your dog and budget.
Top 10 best dog-grooming clippers | Best Clippers For Dog
Here are some of the best clippers for dogs that are popular among professional groomers and pet owners:
Best Overall Dog Clippers: Oneisall Cordless Dog Grooming Set
An affordable option, this dog grooming clipper set includes a stainless steel comb and scissors as well. It has stationary stainless steel and moving ceramic blades, can plug in or go cordless, and comes with six detachable guard combs for different lengths. For extra-long hair, use the comb and scissors first to shorten the fur before clipping
Cordless
Long runtime
LCD display
Includes accessories
Adjustable cut depth
Affordable
The Oster A5 Turbo is a powerful and durable dog clipper that is perfect for professional groomers and pet owners alike. It features a 2-speed motor that can handle thick coats with ease, and its detachable blade design makes cleaning and maintenance a breeze. This clipper is also built to last, making it a great investment for anyone who grooms their dog regularly.
Detachable blade system
Long cord
Cuts through thick hair
Includes accessories
Compatible with other Oster blades
The Wahl Bravura Lithium-Ion Cordless Clipper is a professional-grade hair clipper that is powered by a lithium-ion battery. It is designed to provide powerful, long-lasting cutting performance and is suitable for use on all hair types. The clipper features a precision-ground, high-carbon steel blade that stays sharp longer and is adjustable for cutting lengths from 0.2mm to 3mm. Additionally, it is lightweight, quiet and cordless which gives the stylist mobility and versatility. It also comes with a charging stand, a cleaning brush and oil, and a red blade guard.
Compact and lightweight
Cordless
Ideal for finish work
Five-in-one blade
Accessories included
The Andis ProFoil is a high-performance foil shaver that is perfect for achieving a close, smooth shave on sensitive areas of your dog's body. It features a powerful lithium-ion battery that provides up to 90 minutes of run time, and its foil design helps to prevent irritation. The shaver is also lightweight and easy to handle, making it perfect for hard-to-reach areas.
Pros:
Lithium-ion battery
Adjustable foil
Ergonomic design
Lightweight and quiet
Cons:
Expensive
Not suitable for heavy-duty use
Not cordless
Expensive replacement foil
Best Dog Trimmers For Small Dogs: Wahl Arco Cordless Dog Clipper Kit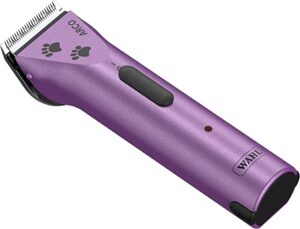 This Wahl Professional ARCO cordless hair clipper is also one of the best grooming tools available. Moreover, this is also affordable and highly recommended by most pet owners. This is suitable for small to medium-sized dogs and sometimes, even horses. Plus, this comes in a 5-in-1 tool kit that includes charging packs, a storage case, guide combs, blade oil, and alloy blades. With that said, this serves as a perfect starter kit for those in need of an affordable, and yet high-quality grooming tool.
Pros:
Cordless and rechargeable
Adjustable blade
Ergonomic design
Suitable for all animal types
Cons:
Limited battery life
Expensive
Longer charging time
Loud
Best professional dog clippers: Wahl KM10 Brushless Motor Clipper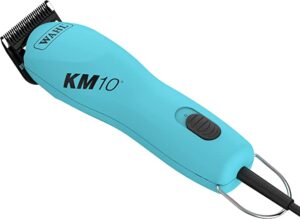 The Wahl KM10 is a powerful and durable dog clipper that is perfect for professional groomers and pet owners alike. It features a brushless motor that provides high power and efficiency, and its detachable blade design makes cleaning and maintenance easy. This clipper is also built to last, making it a great investment for anyone who grooms their dog regularly.
Pros:
Brushless motor
Cordless and rechargeable
Adjustable blade
Ergonomic design
Cons:
Expensive
Limited battery life
Not suitable for all animal types
Best Dog Clippers For Matted Hair: Andis EasyClip Pro-Animal 5-Speed Clipper
The Andis EasyClip Pro-Animals 5-Speed Clipper is a cordless pet grooming clipper designed for professional use. It features five speed settings, which allow the user to adjust the cutting power to suit the thickness of the animal's coat. It also has a detachable blade system, making it easy to change blades and clean the clipper. The clipper is lightweight and ergonomically designed for comfortable use, and it is also quiet, which can reduce stress on the animal during grooming. It comes with a rechargeable battery and a charging stand.
Pros:
5-speed adjustable motor
Lightweight and ergonomic design
Detachable blade
Suitable for use on all animal types
Cons:
Expensive
Loud
Not cordless
Not all blades suitable for all coat types
Best Dog Clippers For Curly Coats: Oster A6 Cool Comfort Clipper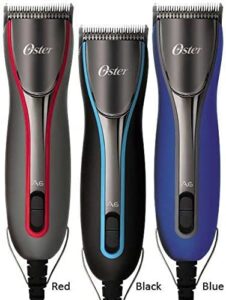 This clipper is perfect for pet owners who want a powerful and durable option that won't overheat. It has a powerful 2-speed motor and a unique design that keeps the clipper cool to the touch, making grooming sessions more comfortable for both you and your pet.
Pros:
Powerful motor
Adjustable blade
Cooling technology
Durable construction
Cons:
Expensive
Heavy
Loud
Not cordless
Best Value Dog Clippers: Artero Spektra professional hairstyling trimmer
This clipper is great for basic grooming. It has five-speed settings and can be used both with a cord or cordless, and the battery lasts for four hours. It comes with eight guard comb attachments, a charger, blade oil, and a cleaning brush. Plus, the clipper has a digital screen that's easy to read.
Pros
It has a good battery life
Uses standard razor blade
It also includes 8 trimming combs
It has a low-noise feature
Cons
It is more expensive than the first two products
The blades cannot be sharpened
This clipper's battery lasts for six hours, so it'll last for a long time, even if it takes forever to get your pup to sit still to cut his hair. It has a five-speed smart motor with technology that senses blade resistance to add extra power. The blade is rust-proof, and the clipper has an LCD smart screen displaying speed and battery life. It also comes with two combs, blade oil, a cleaning brush, and a charger.
Pros
Great for beginners and seasoned groomers
It has a 1-year manufacturer warranty
Includes comb, cleaning brush, charging base, blade oil, and wall adapter
It comes with a standard 4-in-1 blade
It saves you money from going to professional groomers
Cons
It is on the expensive side
When choosing a dog clipper, it is important to consider factors such as the type of coat your dog has, the size and weight of the clipper, and its battery life or corded power source. It is also a good idea to read customer reviews and consider the warranty or guarantee offered by the manufacturer.
In conclusion, the above-mentioned are the top ten dog clippers that are popular and highly rated. Each clipper has its own unique features that cater to different pet's needs. It's important to consider the type of coat, size and weight, power source, and customer reviews before
Further Reading
Q1. How do I choose the right blade size for my dog clipper?
Ans: The right blade size will depend on the length of your dog's coat and the desired cut length. For longer coats, a larger blade size will be needed, while shorter coats will require a smaller blade size. It's always good to have a variety of blade sizes available for different grooming needs.
Q2. Can I use dog clippers on cats?
Ans: Yes, you can use dog clippers on cats, but it's important to choose a clipper that is suitable for both cats and dogs and that has a low noise level, as cats can be easily frightened. Additionally, make sure the blades are sharp and clean to prevent pulling the cat's fur.
Q3. What is the difference between a single-speed and a variable-speed clipper?
Ans: A single-speed clipper has one fixed cutting speed, while a variable-speed clipper has multiple speed options that can be adjusted to suit different grooming needs. Variable-speed clippers are more versatile, but they tend to be more expensive.
Q4. How can I prolong the life of my dog clipper?
Ans: To prolong the life of your dog clipper, make sure to clean and maintain it properly, including keeping the blades oiled, sharpened, and clean. Also, try not to overheat the clipper by taking breaks and allowing the blades to cool down.
Q5. What kind of oil should I use on my dog clipper blades?
Ans: It's best to use clipper oil specifically designed for dog clippers, as it is formulated to lubricate and protect the blades. Avoid using vegetable or cooking oils, as they can become rancid and attract dirt and debris, which can damage the blades.