Business licence in California : Learn how to get a California business license by following our simple guide. We'll walk you through the process and important considerations. No matter what you're selling, the government has rules for how your business operates. Getting a business license is a key part of becoming "official" in the eyes of the state. Here's everything you need to know.
Do You Need a Business Licence in California?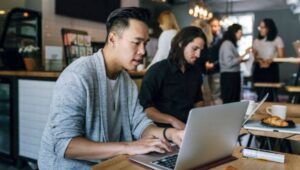 While California does not require or issue a statewide business operating license, this doesn't mean you do not need to have a business license to operate your business in the state of California. Instead, most business licensing is controlled at the county or city level, while the only statewide licensing is the "seller's permit." While there may be a few exceptions, as a general rule you will need a business license to operate in California.
When Do You Need a Business License for California?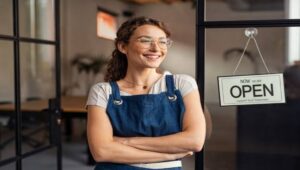 In most California counties and cities, businesses must obtain a business license for tax purposes. Exceptions to this rule are most commonly found in some unincorporated areas of rural counties. In addition to the local business operating license, you may also need other licenses or permits depending on the type of activity your business is conducting or the location where you are operating.
For example, if your business is based in multiple cities or counties, you will need to establish a business license at your primary location and then obtain any additional business licenses in the other cities and counties you do business in.
Read also: 12 Travel Business Ideas To Start Now And Make Money
Types of Business Licenses
Virtually all businesses will need at least one type of license or permit to legally operate in the state of California. Unfortunately, knowing exactly which license you may need to operate in your region and your specific industry can be a headache. Depending on the kind of business you operate, you might need to obtain local, county, state or federal business licenses. Luckily, California makes this a bit easier through the calGold website, tool that enables you to search by city or county and business type to see which permits you will need and which regulatory agencies administer them.
Local Business Licenses in California
The most basic type of business license you will need is a business operating license, which is often simply called a "business license" or "general license" and usually also includes a business tax certificate. These are the most common licenses and will apply to essentially any and all types of businesses and will be nearly identical in all cities and counties across California.
A Fictitious Business Name (FBN) or Doing Business As (DBA) statement may be required, or desired, for your business if the name you are doing business as does not match the name you registered the business with the Secretary of State.
A public health operating license is required of businesses such as restaurants, coffee shops, fitness facilities or any other businesses that are related to people's health. Chefs, cooks, baristas and servers will also be required to obtain a food handlers certification to work in the food industry. These permits often require some form of training and/or testing.
A pesticide applicator's license will more than likely be required for any agricultural operation using any type of pesticide and may require some study and passage of a test to obtain.
Read also: 3 Essential Digital Marketing technique for E-commerce Growth
Additional Local Permits
Additional permits you may be required to obtain on a city or county level when starting your business in California include:
Zoning and land use permits. These are necessary if the land you build your business on is not properly zoned for the type of business you're conducting
Building permits. If you're building a new building or renovating an existing one, you'll likely need a building permit.
Fire department permits. These are required if your business uses flammable materials and is public-facing, as with restaurants, gyms, daycares, hotels or retirement homes.
While these permits are not the same as business licenses, you should research to see if you must obtain one before starting your business (Business licence in California)
California Statewide Licenses
In California, some business licenses are regulated on a statewide level instead of on a localized level. The most common one is a sales and use permit, often called a seller's permit. Businesses selling or leasing any tangible property must obtain a seller's permit before the first sale is completed.
If your business sells, manufactures, imports or distributes alcoholic beverages, you must apply for the appropriate licence  with the California Department of Alcoholic Beverage Control, and register to pay an Alcoholic beverages tax with the Department of Tax and Fee Administration.
A number of other California state licenses may be required for operating your business. If you're not sure, you should conduct additional research using the CalGold permitting website.
Federal Licenses and Permits
Most small businesses will not need to obtain any federal licenses or permits, but depending on the size or activities that your business conducts, you may need to get a federal license. Common business areas where you will likely need federal business licenses include:
Agriculture
Alcoholic sales, serving, distribution or importing
Aviation
Firearms, ammunition and explosives
Fish and wildlife
Commercial fisheries
Maritime transportation
Mining and drilling
Nuclear energy
Radio and television broadcasting
Transportation
Business license in California cost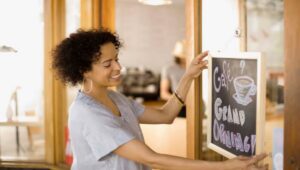 The cost of a standard business operating license can vary by locality in the state of California, and some cities even exempt small businesses from paying any fees. On the low end, you can expect to pay $15 to $30 and on the high end, several hundred. This fee must be paid every year, or few years, when the business license is renewed.
You may also be charged a percentage of your annual revenue and number of employees instead of being charged a flat fee. This is more common for larger businesses, while smaller businesses are often only charged a flat fee. Franchise taxes may also be levied, but should not be confused with business licensing costs.
Read also: Best 9 Business Card Ideas To Improve Your Networking
Renew a Business License in California
Each agency in California handles business licensing differently, but most require licenses to be renewed annually or biennially. If you're not sure, contact the agency from which you originally received your business license.
How to Get a  Business Licence in California
1. Name and form your company
The first step to get a California business license is to name and form your company if you have not already done so. If you have not yet started your business, check out one of our guides on starting a business, forming an LLC or, if you'd rather someone else do it for you, the Best LLC services. Once you have begun a business, make sure you have your key business details in order and ready for beginning your application. You will need:
A business name
An EIN (Employer Identification Number) or SSN (if you're a sole proprietor)
A business entity type (LLC, partnership, corporation, etc.)
A business address and phone number
A business plan that includes anticipated revenue and expenses
COI for your business insurance policy
2. Apply for a California business license
Once you have gathered the necessary information, you'll need to apply for a California business license and/or business tax certificate for your city or county. Visit the website of your city or, if you live in an unincorporated area, your county and fill out the appropriate forms to begin the process.
3. Determine which other local licenses may be applicable
Using CalGold.ca.gov, you should determine which other licenses controlled on the local or statewide level may be applicable for your business and submit the appropriate information to apply for those licenses.
4. Apply for any additional statewide license(s) you need
If your business is renting or selling tangible goods, you will need a seller's permit, which is regulated on a statewide level, though it may be controlled by your local county. You may also need to apply for liquor licensing on the state level.
5. Apply for federal licenses and tax treatment (as necessary)
Finally, though the federal government does not require or issue any general business operating licenses, you may be required to obtain licenses with specific government agencies depending on your business' industry. Common industries requiring federal permitting include some farming, fishing, firearms, alcohol sales and transportation.