USA: Carrier has announced investments in three new innovative startups through its recently formed Carrier Ventures group.
Carrier invests in three more innovative startups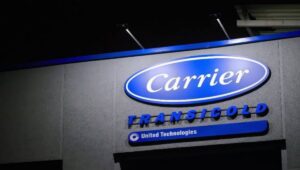 The three companies – Transaera , Butlr and  Archilogic – have been selected for what Carrier sees as its next-generation technology, high-growth potential and sustainability focus.
Transaera
Transaera is a manufacturing startup out of the Massachusetts Institute of Technology, USA. The company – one of eight finalists in the 2020 Global Cooling Prize – is developing a hybrid cooling solution with desiccant dehumidification technology based on novel materials discovered at MIT to solve the cooling challenge. Its novel desiccant technology uses a sponge-like material that grabs moisture from the atmosphere to enable its air conditioner to cool air more efficiently. The heat generated by the air conditioner is then used – instead of being wasted – to dry the material for the next cycle.
Read Also: How To Get A Business License In Californias Changed My Life For The Better ( 2022 Guide )
Butlr
Butlr, another venture-backed startup spun out of the MIT Media Lab in 2019, was named one of the World Economic Forum's Technology Pioneers of 2022. The company's award-winning people-sensing platform uses body heat and machine learning to detect occupancy, headcount and activity, and generate accurate, real-time and historical spatial insights without collecting personally identifiable information.
The company's thermal sensing technology will be embedded in Carrier's Abound cloud-based digital platform and suite of connected solutions for healthy, safe, sustainable and intelligent buildings.
Read Also: 3 Essential Digital Marketing technique for E-commerce Growth
Archilogic
The third company is Archilogic, a Swiss company with offices in Zurich and Walnut Creek, California, with an holistic spatial data platform for the internet. It provides product managers and software developers with infrastructure for building scaled, spatially aware apps that let end users interact with their spaces in the way they need.
Like Butlr's people sensing software, Archilogic's software will also be used in Carrier's Abound cloud-based digital platform. According to Carrier, this will give customers a clear and accurate view of their building interiors in one easy interface, allowing them to unlock and visualise building data to create healthier, more efficient spaces.
Read Also: 12 Travel Business Ideas To Start Now And Make Money
Carrier has not revealed the amounts invested in any of the businesses, but the company's investment in Transaera was part of a $4.5m seed round which also included funding from global investment company Energy Impact Partners, French multinational Saint Gobain, and the Massachusetts Clean Energy Center development agency.
Commenting on the investments, Jennifer Anderson, Carrier's senior vice president, strategy, business development & chief sustainability officer, said: "Our partnerships with Archilogic, Butlr and Transaera will help to accelerate the commercialisation of next-generation technology, contributing to a more sustainable world."